FAQs
how do i find my serial number?
The serial number is found on the data plate attached to your equipment.
Serial numbers are nine characters long. Common serial number prefixes are 31, 46, 48, 54, 65, AP, DV, EN, P, WM, V and EF.
Example: 31xxxxxxx
Only one serial number per submission is required, even if there are multiple pieces of equipment. Your rebate will still reflect the total amount per the copy of your invoice.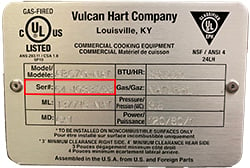 what if i don't have a copy of my invoice?
A copy of the invoice is needed to confirm purchase and to determine your school's rebate amount. Please contact the dealer from which you purchased the Vulcan equipment to obtain a duplicate invoice.
How do I upload my invoice?
You will need to have an electronic version of your document on the computer you're using. If you have a paper invoice, make an electronic copy by scanning it, or taking a picture of it with your cell phone.
Click on "Choose File" on the form on the K-12 Cashback page. A file browser window will open on your computer.
Find the invoice on your computer. Click on the invoice and then click on "Open".
If you choose the wrong file, simply go back to your browser window and choose the correct file.
Is used vulcan equipment available for rebate?
No, the program is designed for new equipment only.
is vulcan test kitchen equipment available for rebate?
Yes, if it has never been sold to another operator and the sales goes through a Vulcan dealer. Contact us with any questions and have the serial number ready.
general question contact info
rebate status contact info